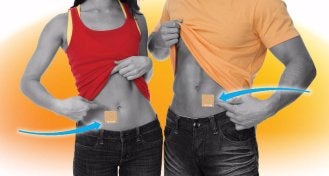 The AM / PM appetite suppressing, weight control patches are the only ones on the market specially designed to work all day and night! The daytime patch controls hunger, burns fat and boosts your metabolism providing you much needed energy when you need it most! The evening patch helps to fight cravings and snacking while burning fat, but unlike the AM patch, the evening patch does not have an energy boost allowing you to relax and have a restful nights sleep.
The weight control patches are all natural and are comprised of a premium blend of ingredients to help promote weight loss by targeting fat and increasing energy. They can be used in conjunction with all of our weight loss programs for maximum results!
They are latex free and water resistent. The patch can be worn on either the shoulder, upper arm, hip, thigh or either side of the waist or abdomen/naval. The patch should be rotated daily and changed every twelve hours.
Call now to schedule your free weight loss and body fat consultation and learn more about our weight control patches..